NEW VOLUNTEER OPPORTUNITY:
Join the crew because we want to make sure we take every opportunity to raise up a generation of Jesus-invested kids. #makeheavencrowded

I have called you by name; you are mine. ISAIAH 43:1
YOU CAN MAKE A DIFFERENCE!
When you commit your life to Jesus, He empowers and equips you to make a difference. You are uniquely gifted to serve and make the world a better place. For these reasons we believe serving is a vital part of the discipleship journey. It's our goal when you serve, you know the significant impact you make, you build friendships on your team, and have fun!
We encourage you to take the first step in expressing your interest in serving in one of these ministries. We are committed to you serving where you feel excited and called, so there's no harm in checking out a few ministries before you find the right fit.
Many people want to serve "where there's the greatest need." This may be a great place to start, but ultimately the body of Christ will be most successful if you serve in an area about which you are passionate.
Reflect | What breaks your heart? What energizes you? What change do you want to see in the church or world?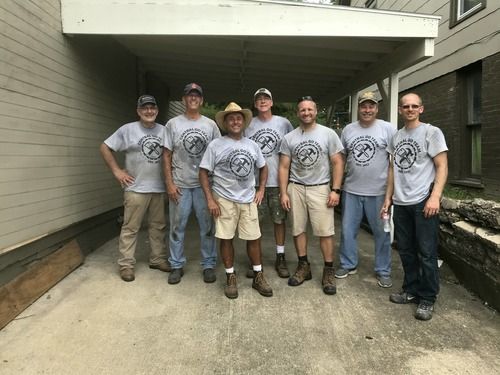 ON-GOING VOLUNTEER OPPORTUNITIES:
Be a part of a team that strives to live out the Gospel by making people feel safe, welcome, and at home. The Guest Service Team covers a large area of our campus. They have a welcoming presence from the parking lot all the way into the Worship Center and beyond.
[Volunteers are scheduled on a month-on/month-off rotation]
Guest Services Positions
Greeter/Server Team
Connection Spot Team
Worship Center Team
Parking Team
Coffee Team
Sign up or get more info.
IGNITE (middle school) is full of fun with weekly programs, one-time events, student conferences, retreats, and so much more! Each Sunday Students have the opportunity grow through small groups that go deeper into the word of God through reading scripture, discussions, and prayer.
[Volunteers are scheduled on a month-on/month-off rotation]
FUSION is the hub and heartbeat of the High School student ministry. All worship, lessons, and videos are formatted to engage students in their stage of life. Fusion places a high emphasis on learning what God speaks to us through the Bible and how that impacts the world around us.
Student Volunteer Positions
Group Leaders
Worship & Small Group Assistance
Creatives & Media
Sign up or get more info.
Be a part of the team that supports the weekend experiences and is ready to respond to emergency and medical situations! [Volunteers are scheduled on a month-on/month-off rotation]
Medical Volunteer Positions
Sign up or get more info.
Bus Drivers assist in transportation for the 9:15 Sunday service, as well as, Central's Thursday Community Dinner. Volunteers pick up those who can't make it to Central on their own. No special license required.
[Volunteers are scheduled one/or more months for the year.]
Transportation Volunteer Positions
Sign up or get more info.
Support individuals and families during times of need. The Care and Support team exists to extend the love, comfort and compassion of Jesus Christ. Opportunities range from writing cards of encouragement, making and delivering hot meals, facilitating our support group meetings and calling and praying for those in need.
Care Volunteer Positions
Visit In Home Shut-Ins
Visit Nursing Homes
Visit Hospitals
Make Phone Calls
Funeral Dinners
Sign up or get more info.
Kid Depot (Birth-5th Grade)
Your kids can learn the basics of the Christian faith in an age-appropriate environment. These engaging, participatory experiences are tailored specifically to help them grow mentally, socially, and spiritually. They'll have the chance to interact with kids their age, have lots of fun and learn about God, all in a safe setting. Whatever your skill set, we have a position for you! [Volunteers are scheduled on a month-on/month-off rotation]
Kid Depot Volunteer Positions
Nursery (birth-crawling)
Preschool (Toddler-5yrs)
Elementary (K-5th grade)
Special Needs
Special Events
Large Group Leading
Worship & Small Group Assistance
Media
Sign up or get more info.
Are you interested in the areas of music, video, promotion, art, design, writing, photography, or production? Central's Creative Arts is the place for you. They are a community of creative thinkers and artists where you can grow in creativity, develop resources to build the local Church and expand the Kingdom of God. [Volunteers are scheduled depending on their role, availability, and rotation.]
Creative Arts Volunteer Positions
Worship Choir
Media/Audio/Video/Lighting/Production
Art
Photography
Graphics
Marketing/Social Media
Sign up or get more info.
A group of energetic, hard-working volunteers who help maintain our campus. Volunteer opportunities are available any day of the week, no experience required.
Campus Team Volunteer Positions
Landscaping
Housekeeping
Painting
Builds and Repairs
Sign up or get more info.
Meet the physical needs of individuals at Central and in our community by providing meals. [Volunteers are scheduled on a once a month rotation.]
Food Ministies Volunteer Positions
Food Pantry
Monday Soup Kitchen
Thursday Community Dinner
Mobile Meals
Sign up or get more info.
Central's Stream Team is a new ministry opportunity where volunteer groups travel to off-site viewing locations to engage with residents who worship with Central online. The majority of those sites are assisted living centers located within an hour of Central.
[Volunteers are scheduled on a once a month rotation.]
Stream Team Volunteer Positions
Communion
Media
Hospitality
Sign up or get more info.